Upcoming Show in Rathaus (city hall) Vienna
An exciting opportunity to see the Robert's largest exhibition to date. Many new works will be on display/sale right of the center of Vienna. Last days of March into early April. See our upcoming show section for more details.
Show Catalogs Available
We are proud to offer a full color 72 page catalog of a recent show in Austria. The catalog features full page color prints of Schoeller's works as well as information about Robert as an Artist. Click here to order.
Come see us at the NY Art Expo

We will have some of our work at the Art-Exchange booth at the 2008 NY Art Expo as well as a variety of Giclee prints. Feb 28 - Mar. 3 at Javits Convention Center.
New Landscapes Added
We have recently added many landscapes to the website both watercolor and oil. Many of these are framed and ready for immediate shipment.
Click here to view the new landscape gallery
Sacagawea Prints
In comemoration of the Lewis & Clark bicentennial we have added Robert Schoeller's print of Sacagawea to our website. This edition of the Sacagawea print was specially color corrected by the artist ensuring each of our prints lose none of the beautiful color of the original Sacagawea painting. You can fine the print of Sacagawea and other indian art and native american art in our Western Art Gallery
Exhibition in Stuart FL
Jan. & Feb. of 2006 saw an exhibition of Robert Schoeller's Paintings in the Elliott Museum in Stuart, FL. The opening was on Jan 20th and the show was open until the 27th of Febuary. It was a great opportunity to see some of Robert Schoellers latest works. .
Tuckerville
Robert Schoeller appeared on Tanya Tucker's new reality show "Tuckerville" premiering Oct. 22 2005 on TLC. Robert will be appearing throughout the series as his creation of the portrait of the daughter of Tanya Tucker is brought into existence and unveiled. Additionally one of Robert Schoeller's recent paintings adorns the wall of Tanya's living room.
Mammoth paintings
We have recently seen the completion of the Robert Schoeller's largest works to date. Measuring 24' high; they will be on display in a prominent shopping center in Linz, Austria for the early months of fall 2006 as part of his Plus City art exhibit. Available for art installations or large corporate art display.
New Printing line
We are excited to announce the establishment of our new printing line and our decision to move our reproduction printing in house. This will enable us to effectively monitor the precision and accuracy of the color and definition previously a very time consuming and difficult process. Additionally we are employing the latest printing technology providing superior color depth and accuracy especially in the darker colors. With the wide array of printing mediums available we can now reproduce any of Robert Schoeller's works from sketches to watercolors and of course his masterful oil paintings.
Sakakawea painting unveiled
At the annual 2004 meeting of the National Foundation for Women Legislators, Robert Schoeller unveiled his first Native American Work, Sakakawea. The painting of Sakakawea, the first female american diplomat accompanying Lewis & Clark on their Expedition will be used to commemorate the upcoming bicentennial of the expedition in 2006.
Foundation for Native American Drug Rehabilitation Fundraiser
In July of 2004 in appreciation for the charming people he met in the tribes of North Dakota and Florida Robert Schoeller held a fundraiser for the drug rehabilitation of Native American's. The large crowd that gathered for the evening was both entertained and enlightened by Native American speaker Ben Brown Wolf who performed songs and told stories of indian culture. Guests also enjoyed authentic Native american cuisine in addition to the display of Robert Schoeller's latest works and works in progress including his Native American painting "Buffalo Hunt 2 ".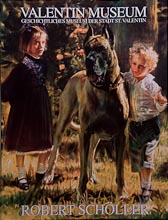 Show catalog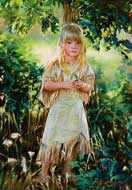 Portrait of Tanya Tucker's daughter by Robert Schoeller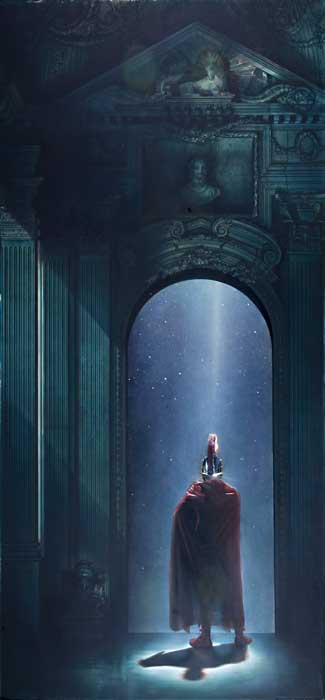 One of Robert Schoeller's "Mammoth Paintings". Almost 24' tall.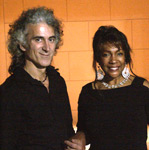 Robert Schoeller with Mary Wilson of the "Supremes".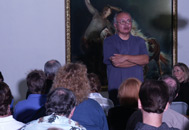 Ben Brown Wolf elightens studio visitors about Native American Folklore.